In long is a centuries-old tradition of understanding and use fishing as an asset of a natural resource worth protecting. It is the very essence of what is fish culture in the long and explains why Långå appreciated for its harmonious balance of quality of life and natural quality.
Långå fishery conservation area association committed to Långåfisket to be one of the best sport fishing areas. This applies to fish and their living conditions but even those who fish and their needs! Fish culture is one of quality concepts. Proceeds from the permits goes back to the fisherman by fishing management and investment.
Långåfiskets four major
trout, char, grayling and whitefish called Långåfiskets four large - the big four. The concept mimics the collective name for the five "largest" animals at the Savannah of Africa, that is the most appealing to discover. It's all about game fish that are original and popular sport fish. This is where the 'greatness' is located, not counting the weight in kilograms without the experience of the fish species that has been in place for thousands of years. And that is a bit unique that in certain locations can meet all four at the same time.
In the municipality's fishing information kallas the Långåfiskets Four Noble! There is a good description.
To fish for game fish is a special and great experience. It comes from small brook trout for trout over 8 kilo (Långå-Ljusnan June 2015). On some occasions, maybe even every year, you should indulge in the experience and there are plenty of good water game fish in the Swedish mountains. Långåfisket is a.
Grundsjörödingen belongs to a large char, related to the char in Lake Vättern, and came slightly later than Arctic char. The grayling is Härjedalen fishing and much appreciated. "Ljusnan and Långåfisket is sikflugfiskarna what Emån is the trout fishermen" wrote Lasse Hallberg, in NVT No. 2/2013. This quote speaks for itself.
Roundels in Långåfiskets logo symbolizes "the big four".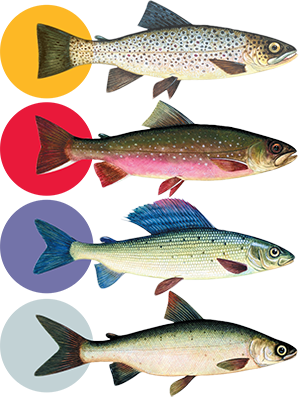 Bass & Pike
Perch fishing is the beginning of a lifetime of fishing interest right from childhood and is popular year round, as well as the pike which increased sharply.
Perch are found in many of our waters and the Board have discussed possible measures to increase the supply of perch in some water. Every year, both summer and winter, reported on "record" when someone landed perch over a kilo, even over two. On the ice fishing for perch should have hefty drill. Fly fishing for perch is increasing rapidly, but still dominates the spin- and pole.
In Långåljusnan with its sel and lakes are interesting and exciting pike fishing. Pike has good quality and is more and more appreciated as a sport fish. And even as a food fish. Please read the recipes on this web site / Tips