In long is a centuries-old tradition of understanding and use fishing as an asset of a natural resource worth protecting. It is the very essence of what is fish culture in the long and explains why Långå appreciated for its harmonious balance of quality of life and natural quality.
Långå fishery conservation area association committed to Långåfisket to be one of the best sport fishing areas. This applies to fish and their living conditions but even those who fish and their needs! Fish culture is one of quality concepts. Proceeds from the permits goes back to the fisherman by fishing management and investment.
Långåfiskets four major
trout, char, grayling and whitefish called Långåfiskets four large - the big four. Begreppet efterliknar samlingsnamnet om de fem "största" djuren på Afrikas savanner, det vill säga de mest lockande att upptäcka. Här handlar det om ädelfisk som är ursprungliga och populära sportfiskar. Det är där som 'storheten' ligger, inte vikten räknat i kilo utan upplevelsen av fiskarter som funnits på plats i tusentals år. Och det är lite unikt att man på vissa platser kan träffa på alla fyra samtidigt.
I kommunens fiskeinformation kallas de Långåfiskets fyra ädla! Det är en bra beskrivning.
To fish for game fish is a special and great experience. It comes from small brook trout for trout over 8 kilo (Långå-Ljusnan June 2015). Vid några tillfällen, kanske till och med varje år, ska man unna sig den upplevelsen och det finns gott om bra ädelfiskevatten i den svenska fjällkedjan. Långåfisket är ett.
Grundsjörödingen belongs to a large char, related to the char in Lake Vättern, and came slightly later than Arctic char. The grayling is Härjedalen fishing and much appreciated. "Ljusnan and Långåfisket is sikflugfiskarna what Emån is the trout fishermen" wrote Lasse Hallberg, in NVT No. 2/2013. This quote speaks for itself.
Roundels in Långåfiskets logo symbolizes "the big four".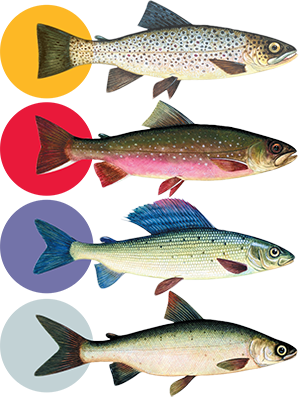 Bass & Pike
Abborrfisket är inledningen till ett livslångt fiskeintresse redan från barnaåren och är populärt året runt, as well as the pike which increased sharply.
Abborre finns i många av våra vattnen och styrelsen har diskuterat om eventuella åtgärder för att öka tillgången på abborre i vissa vatten. Varje år, både sommar som vinter, rapporteras om "rekord" när någon landat abborrar över kilot, till och med över två. Den som pimpelfiskar efter abborre ska ha rejäl borr. Flugfiske efter abborre ökar snabbt, men fortfarande dominerar spinn- och spöfiske.
I Långåljusnan med dess sel och sjöar finns intressant och spännande gäddfiske. Pike has good quality and is more and more appreciated as a sport fish. Och även som matfisk. Läs gärna recepten här på hemsidan /Tips